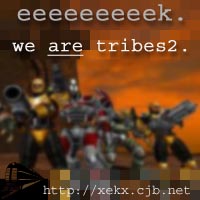 ---
To Join Our Tribe!
email ( "shallow2040" "need4panic" or "whtchalklte" ) with the subject entitled
" tribe me". We will review your stats and you WILL BE put into a place in the tribe as a member dirt or high ranker. We have no meetings or any other team things. We are there for support and tournaments. This tribe is for everyone. this is tribes 2.
---
(c) XekX 2002, all rights reserved.